Connecticut Residential & Commercial Roofing Contractors
Since 1935, J.J. Landerman Roofing has enjoyed a presence throughout New England providing aggressive preventative maintenance programs, handling minor repairs, re-roofing and installing new roofing systems while at the same time being available for unexpected emergency and scheduled leak repairs.  We are a reliable roofing contractor in CT serving MA & RI. Our reputation for fairness, reliability and a strong work ethic has allowed us to maintain a high level of customer satisfaction that is important to us.  Throughout each project, we strive to present a level of professionalism with excellent communication skills and quality of work.
Simply stated,  "We build relationships through service!"

J.J. Landerman Roofing is fully licensed and maintains workman's compensation and liability insurance against property damage.  Each of our projects abides by the full extent of any and all building codes ensuring our work is completed to the best possible standards.  We are licensed by most manufacturers and are able to provide you with 10, 15 & 20 year labor and material warranties.

We have a strong and committed sales staff with many years of experience satisfying our customers' needs. Feel free to browse our portfolio and testimonials online, request more information about our services, or call to set up an appointment to look at your project.
Residential | Commercial | Portfolio
Hear What Our Customers Have to Say
"The knowledge that Landerman brings to a job is second to none."

We provide property management services to many buildings in the Greater Hartford area, and we have been using J.J. Landerman Roofing for more than 20 years now. Whether it is the smallest of repairs to stop existing leaks, or a complete re-roofing of a large apartment building, Landerman has always provided prompt and professional service. The knowledge that Landerman brings to a job is second to none. They are familiar with slate, shingle, rubber, modified, and a host of other products. Oftentimes Neal has offered his knowledge of other components, such as plumbing for roof drains, or masonry work, which has been extremely helpful in pinpointing the source of undetectable leaks. I certainly recommend using Landerman Roofing on any roof repair or replacement.


Michael Grant, Owner, Housing Consultants, LLC, Hartford, CT
"Landerman Roofing delivered quality work in an expedient manner..."

I first met Neal Landerman in March, 2011. His company, J.J. Landerman Roofing, came to our rescue when the roof on one of our commercial buildings nearly collapsed due to the amount of snow accumulated that winter. We had barely finished all repairs when, in June 2011, a tornado lifted the roof off a second property which is over 100 years old. Enter Landerman Roofing once again.

Not only were our buildings put back together better than they had been, but Neal and his company were entrenched from the onset. They were present at preliminary meetings with the insurance adjusters; they collaborated seamlessly with other companies to ensure all work was done properly and completely; they communicated with our tenants ensuring there was minimal disruptions to their ongoing businesses; and they kept us completely informed with day to day progress and upcoming timelines. Communication was forthcoming, whether directly from Neal, his office staff, or his foreman, and their response was immediate to any concerns of our tenants or myself.

Landerman Roofing delivered quality work in an expedient manner, and pricing was fair and competitive. I have complete trust and confidence in their abilities. It has been an extraordinary experience working with Neal and his company.


Hillary Nuger Weinroth,H&P Realty LLC, Stamford, CT
"Landerman Roofing is the only roofing company I will use..."


Landerman Roofing is the only roofing company I will use or have used for the past two decades for any job large or small.  I found his company over 2 decades ago when I received a quote from the person I had been using that didn't "feel" right and brought Neal in to review it.  It turns out the competing quote was not only sky high, but wouldn't have fixed the problem that I was trying to solve.  Since then I have trusted Neal for all my roofing needs in the 7 states we currently do business in.
 
I have learned that he is not only the consummate professional that knows the right way to get the job done, but his pricing, attention to detail and ability to get the job done on time and in budget is second to none.  I can give my unqualified recommendation to Landerman Roofing.


Bob Kaufman, President,Bob's Discount Furniture
"The work was outstanding, the crew respected the site and did not interfere with the needs of our family...."

J.J. Landerman just completed our roof and the representative I dealt with was great. He worked with me during the proposal phase, selecting the shingle my wife wanted & project setup. I have never had a contractor who did exactly what he said he was going to do when he said he was going to do it, in this case I was more than pleasantly surprised. He kept in touch and on schedule!

Just a bit of background, this project was estimated and committed to including start date just before the October blizzard of 2011. We could not get the contract signed because the Landerman office was closed. I could only take calls on my cell phone at prearranged times as Simsbury did not have cell service except in specific locations. I lost power and phone service at the house, had a tree fall on the roof and on the front of the house, and had numerous other contractors and insurance to deal with on an emergency basis. So the fact that we got started and completed this project on schedule and budget is amazing.

When we actually got started with on site work the crew respected the site, cleaned up after themselves, made sure the site setup did not interfere with the needs of our family and other unexpected work that resulted from storm damage. The work was outstanding, I used to roof houses when I was a teen and it is a tough job, these guys were good and stayed on top of everything. This was the first time I have heard my wife actually compliment a project and she was pleased. That is a real compliment. Thank you J.J. Landerman and a special thanks to the guys for an outstanding job and for making the job easy in extraordinary weather conditions.


Fred Blum, Residential Homeowner, Bloomfield, CT
"These people really care about doing the job right "

I am president of Cobblestone Court Homeowners Association in Newington.  Our community consists of 38 units in 10 Town Home style buildings.  In recent years we have experienced significant problems with leaking roofs due to poor construction techniques by the original builder of our homes. Our community recently decided to address these problems by installing  new high quality roofs.

 

Given our history of problems, the selection of a high quality roofing contractor and developing specifications for a reliable leak proof roofing system were of paramount importance.  I am pleased to say that JJ Landerman Roofing  and an Owens Corning roofing system has more than met our expectations.

 

While there are many competent roofing contractors and many solid roofing products, we found in JJ Landerman's people,  a unique and exceptional combination of technical knowledge and skill, a commitment to quality, a work ethic that was off the charts, and an exceptional responsiveness to requests and follow up items. These people really care about doing the job right and they consistently go above and beyond to assure that we are 100% satisfied. It is my pleasure to give JJ Landerman roofing my highest recommendation to anyone who is considering a roofing project.

Jack Willin,Cobblestone Homeowner's Association
"Any project that demands complete integrity, professionalism, reliability, quality of installation and dedication to customer service, requires J.J. Landerman Roofing.


For over 26 years I have exclusively contracted with J.J. Landerman Roofing, Inc. for both commercial and residential properties.  The commercial property has eleven acres of flat roof which required total replacement in 1984.  With over 75 penetrations, heavy rooftop equipment and parapet walls, this was a major undertaking.  As a multi tenanted property it was imperative that the complete job be of the highest quality.  It was and has been for 26 years.

Mr. Landerman personally introduced himself to each tenant thereby developing a professional relationship and gaining their confidence.  Should any problem with the roofing system occur, all of the tenants know that the issue will be dealt with immediately.  As a property manager, this is an incalculable value.  Satisfied tenants exercise lease options which always generates higher revenue.  UPS, Lego, Honda, DHL, Avon and Atlantic Plywood all would be examples.

With property acquisitions planned in Louisiana, during the coming year, Mr. Landerman's firm has been selected as the exclusive roofing contractor.  Mr. Landerman's well recognized multi state capabilities made this selection the only logical decision.  I wish all contractor selections were this easy.

The employees of J.J. Landerman Roofing respond immediately to any problem.  One phone call and the necessary personnel are on the way.  They are polite, helpful and thorough.  I have not received a complaint in 26 years.  They employ state of the art equipment, report any additional areas that could cause a problem in the future, but most importantly correct the problem professionally and in a timely fashion.  I have not, nor never will allow any other roofing company to bid for or work on any of my roofing systems.

With over 45 years of construction experience, Mr. Landerman is again a blessing.  He is included in every project meeting because of his vast knowledge coupled with innovative approaches to problem solutions.  He has saved me significant amounts on construction costs.  Several of the finest subcontractors I currently use were referred by Mr. Landerman.

Any project that demands complete integrity, professionalism, reliability, quality of installation and dedication to customer service, requires J.J. Landerman Roofing.  Mr. Landerman has earned my total respect and gratitude.

Adrien A. Maught, Jr. Chief Executive Officer, Acklin (USA), Inc., Bradley Premier Storage, Inc., Park Plaza, Inc. Winchester Partnership
"none can compare to the quality of your work and service..."

I just want to take a moment to thank you for doing an exceptional job on our roof.  We have worked with several roofing companies in the past which none can compare to the quality of your work and service, not to mention the professional way J.J. Landerman's office staff and service crew has worked with us.  I would not hesitate to recommend J.J. Landerman Roofing to anyone who is looking to repair or replace a roof.



Steve Gentile, V.P. Purchasing,Mercury Excelum, Inc.
"a pleasure to see such professional work and attention to detail..."

I wanted to take time to express our thanks for the terrific job your company did for us on our Southington facility, the Neopost New England Building off Exit 30 on Interstate 84.  We were referred to your company because the company next door, Gibbs Wire and Steel, highly recommended you based on your work on their building.

Our 11,000 s.f. building had an older membrane roof from the original construction.  As is often the case with an older flat roof, there were small leaks and general deterioration.  We were pleased that Neal Landerman responded quickly and in person.  He studied the situation then reviewed the issues and recommendations with us.  Based on his advice, we went ahead with the new roof insulation and the Johns Manville rubber roofing system as recommended, as well as the aluminum metal edging around the perimeter.

The foreman and crew arrived each day on time.  Their work habits were exceptional and they left the premises very clean at the end of each workday.

One other thing that "wowed" us was the great coordination the Landerman crew exhibited with the other contractor on site, the HVAC company that was installing new units on the roof.  The timing needed to be just right.  The Landerman staff worked with the HVAC people as if they were all one team, handling all the curbing to be done to accommodate the new units.

It was a tremendous pleasure to see such professional work and attention to detail.  The job was completed on time and on budget, without our needing to oversee in any way.  Landerman just got the job done!  Again, thank you for the great work, and feel free to use us as a reference at any time.

Paul Carrington,Carrington Properties
"the yard was cleaner than when they arrived!"

I guess I am one of the many little guys for whom Landerman Roofing has done roof work. My Son bought a house during the early part of 2011 and we knew that we would need to replace the roof. We had to wait until the snow cleared, and when it did, the estimator arrived exactly when he said he was. The quotation was competitive so Landerman was awarded the job which required stipping the old roof. The crew arrived on the agreed date but by then we knew that another storm was forecast. I called Neal Landerman who said he would have his crew work late until completed. They did, and when they left the yard was cleaner than when they arrived! I would recommend Landerman Roofing to anyone.....in fact I have!


David Merrills,Residential Homeowner, Farmington, CT
"It's that kind of service and relationship that makes recommending them easy."

I have been dealing with Landerman Roofing for almost fourty years.  When you own or manage a property with more than an acre of flat roofs, you need a roofing company to repair or replace your roofs as necessary.  Neal Landerman's company has always filled that bill for me.  Over the years, I have made many emergency calls.  Neal would be on my roof himself if his men were busy elsewhere.  It's that kind of service and relationship that makes recommending them easy.



Mike Laureno,Laureno Lumber
"always found Mr. Landerman to be of excellent moral character..."

This is to advise that we have enjoyed a good business relationship with Mr. Neal Landerman for over thirty (30) years. During this period we have always found Mr. Landerman to be of excellent moral character, trustworthy and most honest in all his dealings.

He is very qualified and properly equipped to provide good service to the roofing trade.

I highly recommend Mr. Landerman and Landerman Roofing for any consideration and have no doubt that he will continue to prove a credit to the community.



Ronald Schaller,Schaller Reality & Schaller Auto
"My experience with Landerman Roofing has been more than satisfactory."

I have done business with J.J. Landerman Roofing company, Inc. for more than 25 years.  They have assisted me on a subcontractor basis in my commercial and residential construction business, providing both flat roof and shingled services.  I have also used them on properties, commercial and residential, that I own personally.

My experience with Landerman Roofing has been more than satisfactory.  I am concerned not only with price but also with quality when hiring a contractor.  I have not been displeased in either area with Landerman Roofing.  On the rare occasion that call backs were needed, Landerman has been responsive and fixed the problems.

I wish J.J. Landerman Roofing Company continued success so that we may enjoy the sound working relationship we have today.

Leon H. Faucher, Vice President,Pioneer Buiders of Newington, Inc.
"I am happy to recommend them!"


Landerman Roofing has done a lot of work for us over the years.  I have always found them to be prompt and on time.  Neal is a good detective and has solved many roofing issues for us.  They have replaced a 12,500 sq. ft. roof on our building and were fast, neat, nice and clean!  He also did the roofing on our new facade which was a sizable and tough installation and it came out to perfection!  Neal is a great guy to do business with!  I am happy to recommend them!

Arthur Epstein,Epstein Brothers Carpet
"The quality of their work is outstanding and their pricing is excellent."


I have worked with the J.J. Landerman Roofiing Company on several roof projects within the past several years.  I have found them to be a very professional company.  The quality of their work is outstanding and their pricing is excellent.  I would highly recommend Landerman Roofing for any roof project in the future.  They are dependable and they leave the work area clean at the end of each days work.  I have been very pleased with their service over the years.

Karen D. Kulak,Associated Real Estate Services
"I write to commend the quality work and professionalism of your employees...."

I write to commend the quality work and professionalism of your employees who recently installed roofing on both my Mother's home in West Hartford and our Newington residence. The team completed the work in a timely and efficient manner and we are pleased with the final appearance.

In addition to their trained skills, each employee consistently demonstrated a friendly and caring attitude which helped to ease our concerns about this project, a daily routine for them, but a huge undertaking for us. Please convey our grateful appreciation to them.


Frank Ruotolo,Residential Homeowner, West Hartford & Newington, CT
A Personal Note from company President, Neal Landerman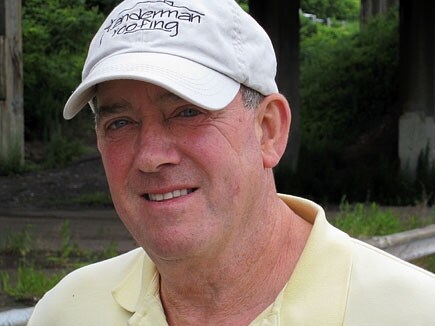 Contact
J.J. Landerman Roofing Company
102R Filley Street
Directions Bloomfield, CT 06002

Hours
Monday

7:00AM-4:00PM

Tuesday

7:00AM-4:00PM

Wednesday

7:00AM-4:00PM

Thursday

7:00AM-4:00PM

Friday

7:00AM-4:00PM

Saturday

Closed

Sunday

Closed
Get Directions
* Indicates a required field